Canton Riverfest 2005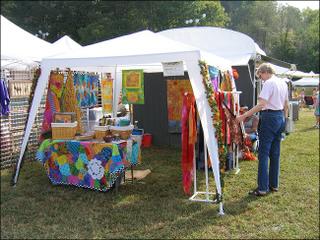 Here's my little schizophrenic Gypsy tent along the Etowah River.Can you believe that I get that tent and everything in it into my Honda Civic?
I had to tell several people that I did not give readings. Just kidding. The show was well organized and well run. The only problem was that people were just generally not in a spending mood. The exhibitors were shuttled back and forth to our parked vehicles on spiffy little air conditioned buses where it was very instructive to listen to the veterans speculate about why sales were so flat. For my part, I was counting on selling a lot of those velvet scarves that Jan Thompson and I have been dyeing merry hell out of all summer long. It was 90 degrees and smarmy out. No one wanted to think about velvet much less handle it. I did sell a 12 foot dyed crocheted piece that has been hanging around my studio like a Chinese Parade dragon and a few of the cotton scarves but that was all. It turned out that this venue was much more "Craft" than "Art" and the artists suffered. I saw birdhouses and lawn whirligigs being carried around but not much else. I did make some interesting and potentially lucrative contacts and got so much positive response to
"Rubric"
which hung at the back of my booth and seemed to draw people in like flies to honey. Very satisfying.